Expertise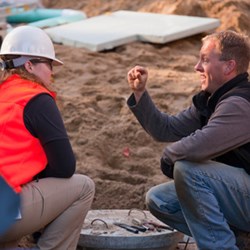 We Have the Knowledge & Experience You Need
On the waterworks side of our business, our roots go back more than 50 years in the industry. And those of one of our technology partners, Fluid Conservation Systems, extend almost as far. Using FCS's globally proven water-distribution management tools, our experienced leak team has already helped hundreds of customers collectively save millions of dollars in operating costs – and millions of gallons of water.
When it comes to smart grid, we've built an expert team and partnered with Sensus, an industry leader in smart city and smart grid technologies. Together, we'll help you identify and implement intelligent solutions for streetlighting and electric metering. The technology will revolutionize the way you do business, giving you more data, more control, and more ways to benefit the people you serve, all while improving your bottom line.
Innovation
We Offer Globally Tested, Proven Solutions
Our intelligent "eye-in-the-sky, ear-to-the-ground" data acquisition, hosting, and management technologies remotely monitor and report what you need to know, when you need to know it. You will benefit from robust actionable data and new levels of control for your operations.
Along with our best-in-class technology partners, we'll help you select and deploy Smart City solutions for managing water distribution, metering and monitoring wastewater, and implementing smart lighting and smart electric metering – employing the Internet of Things (IoT) to transform business as usual for you and those you serve.
A Strong Return on Your Investment
What You Don't Know is Costing You More Than You Can Imagine.
You run your operations well based upon everything you know. But what about what you don't know?
Our water clients are stunned when they discover the percentage of clean, treated water they're losing every day that never reaches an end user. When they calculate the value of that lost water over a year's time, they're shocked at the number. One municipality was losing 82 percent of its water!
Whether your system's water loss falls within the "acceptable" industry standard of 20 percent or it's much higher, we can help you find the hidden leaks in your system with pinpoint accuracy, saving you hundreds of thousands of dollars or more in wasted operating costs and lost revenues every year.
On the smart grid side, 40 percent of a city's energy use is consumed by streetlighting. And each truck roll dispatched to find burned out lights and day-burners can cost $150 or more. Our smart streetlighting solutions are compatible with both LED and legacy lighting systems and not only save energy but also reduce operating costs. And our smart electric metering solutions reduce the need for manual meter reads and associated costs, increase accuracy of energy-use tracking and billing, enhance energy-theft detection and provide easier outage and asset management.
Environmental Leadership
We'll Help You Do Your Part to Help Preserve the Planet
With less than 3% of the earth's water being fresh water – and the majority of that being ice, we all need to do our share to help protect this vital natural resource. Our water-loss management solutions will help you stop over-pumping and over-treating water that never reaches your customers, helping to preserve rivers, streams and aquifers.
Likewise, our energy-efficient smart-grid solutions reduce energy use and will lower your carbon footprint.
Customer-Focused, Consultative Support
We're There for You Every Step of the Way
When you work with 540 Technologies, you gain access to a team of experts who are dedicated to helping you succeed.
From our initial site visit, through your successful implementation of the technology solutions your system needs, we'll be there to:
Listen
Analyze
Guide
Demonstrate
Teach
Answer questions
Troubleshoot