Harrisburg Utility Case Study
Harrisburg Utility Taps Smart City Solutions to Stem Water Loss, Improve Revenues
2.6 Million Gallons of Treated Water Saved Per Day
$429,000 Saved Per Year
Background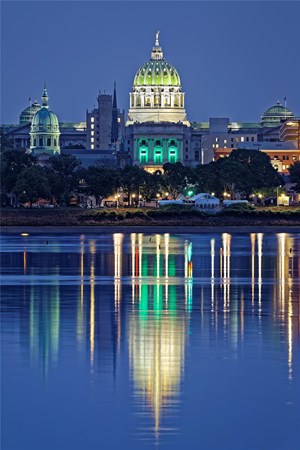 Capital Region Water – Harrisburg, PA
Capital Region Water has full operational and managerial control of the Harrisburg city water system, including a 600-acre reservoir that serves as the primary source of drinking water for more than 60,000 customers.
Water from the reservoir travels through 23 miles of underground pipes to a treatment center, where it's pumped to one of four smaller reservoirs. The water is then gravity-fed through 200 miles of pipe to residential and commercial customers, as well as nearly 1,800 hydrants.
Number of Water Taps:
20,675
Population Served:
61,339
Miles of Water Main:
203 (distribution mains)
25 (raw water mains)
228 total miles of water mains
Area of Service:
City of Harrisburg - 8.13 square miles and parts of:
Susquehanna Township
Penbrook Borough
Lower Paxton Township
The Problem
City officials discovered that although Capital Region Water was withdrawing nearly 10 million gallons of raw water daily for its customers, 43% never reached an end user. The reason? Massive quantities of the authority's treated water were being lost through leaks in the utility's underground mains and service lines. Although some of the more extensive leaks revealed themselves through water bubbling up through the ground's surface, a large number remained undetected.
To help the authority find these hidden leaks amid hundreds of miles of underground pipe, Capital Region Water turned to the leak-detection experts at 540 Technologies™.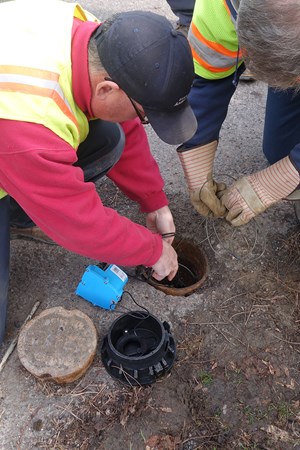 The 540 Technologies Leak Detection Solution
A Team of Experts
The experienced Leak Team at 540 Technologies conducted a thorough review of Capital Region Water's distribution system to assess the situation and recommend an effective solution.
Then, the leak experts at 540 Technologies provided equipment demonstrations and training for Capital Region Water staff to help the authority implement and manage the recommended solutions.
Smart City Technology Solutions
Through its exclusive partnership with leading leak-detection technology manufacturer Fluid Conservation Systems (FCS), 540 Technologies prescribed a combined solution of FCS's Permalog+ leak-localization data loggers and TriCorr Touch correlators to identify and pinpoint the leaks.
The battery-operated data loggers attach magnetically to pipe fittings and can be deployed in several ways, including a "lift-and-shift" arrangement that allowed Capital Region Water to gather data on its entire network in a more cost-effective manner. The loggers transmit data manually, by radio signals to a passing vehicle, or over a wireless network to an office computer or FCS's data-hosting cloud.
Armed with data from the loggers, the team then used the correlators to pinpoint the locations of the underground leaks within 12 inches.
Monitoring Period
Sweeps of Capital Region Water's network, conducted over a 36-month period:
January 2015—August 2016
August 2016—September 2017
October 2017—December 2017
Results
127 Hidden Leaks Detected
The Smart City technology solutions from 540 Technologies allowed Capital Region Water to find and fix 127 hidden leaks the authority otherwise would have not found.
Less Disruption to Customers
Because the technology pinpoints leaks within 12 inches, the authority was able to:
Dig smaller holes
Address leaks more directly
Reduce disruption to customers during the pipe repair/replacement process
23% Reduction in Raw Water Withdrawals
Capital Region Water was withdrawing nearly 10 million gallons of raw water daily to meet customer demands. By finding and fixing underground leaks with the help of 540 Technologies, the authority was able to reduce its daily withdrawal of raw water by 23%, lessening its impact on the environment and improving conservation of the watershed.
50% Reduction in Lost Treated Water
Before 540 Technologies, Capital Region Water was losing 43% of its treated water, which amounted to more than 3.6 million gallons per day. After finding and repairing the leaks found during the four-year monitoring period, Capital Region's treated water loss was reduced by more than 50%.
2.6 Million Gallons of Treated Water Saved Per Day
When factoring the water loss improvements achieved from 2014 to 2018, Capital Region Water is operating at an increased efficiency that saves 2.6 million gallons of treated water per day.

At the wholesale processing cost of $.45 per 1,000 gallons metered, Capital Region Water saved an estimated $429,000 in variable water-processing costs in 2018 as the result of its decrease in finished water loss.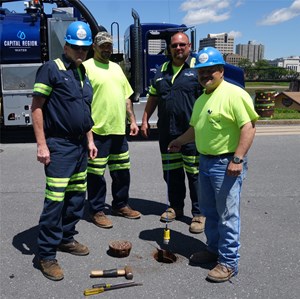 Next Steps
With help from 540 Technologies, Capital Region Water has made great strides toward meeting the Pennsylvania Department of Environmental Protection guideline of having no more than 20% metered water loss vs. raw water withdrawals. However, the authority's aging distribution infrastructure has impeded its progress toward that goal.
540 Technologies is now working with Capital Region Water to help the authority fine-tune its leak detection process, train additional staff, improve its water-line repair procedure, and conduct pipeline assessments that will assist the utility in implementing infrastructure improvements.