Revolutionize Your Parking Operation Using Artificial Intelligence (AI)
Put the Internet of Things to work for you. Update your legacy street, surface lot, and garage parking systems with smart technology. Cloud-based video technology will make parking easier for customers and more profitable for you.
Strategically positioned video cameras provide real-time, actionable intelligence thanks to powerful, automated software. A parking management dashboard lets you monitor real-time conditions, analyze data, and solve problems when they arise. A smart phone app helps direct customers to open spaces across your city or campus and provides convenient, touchless payment options.
With Smart Parking Solutions from Allerin
Benefits
For You:
Cloud-based video system provides automated meter monitoring and enforcement
Real-time dashboard lets you monitor space inventory
Powerful software lets you track and analyze transaction and payment data by location, time of day, and payment type
Frictionless payment options allow credit card and mobile payments
Integrated billing system sends fines automatically
Flexible software lets you set surge pricing for special event parking
For Drivers:
User-friendly app identifies available parking options
Driver navigation helps customers locate open spaces in real time
Enables cashless, electronic payments via credit card or mobile pay
Allows drivers to monitor and extend remaining time (if optional extension is allowable)
Bonus Benefits for Emergency Management and Law Enforcement
Allows officials to monitor and assess routes
Identifies abandoned vehicles
Detects gunshots
Offers license plate alerts
Features
High-powered video cameras collect and transmit data using cloud-based technology
User-friendly software for you and a corresponding smart phone app for customers provide real-time, actionable intelligence and options
Parking kiosks accept and process cash and electronic payments
Download Smart Parking PDF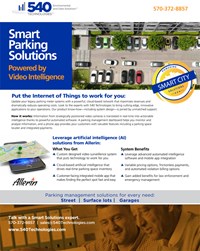 We Can Help.
Talk To Our Experts Today.